Off-the-shelf modules available on all your environments !
Hubi and its partners produce and improve new modules every day.
Why should a chatbot be limited to a single use case when a metabot can handle all your use cases?
Activate each of these modules in your portal and choose the scope application of each of them.
Easy. 1 minute is enough.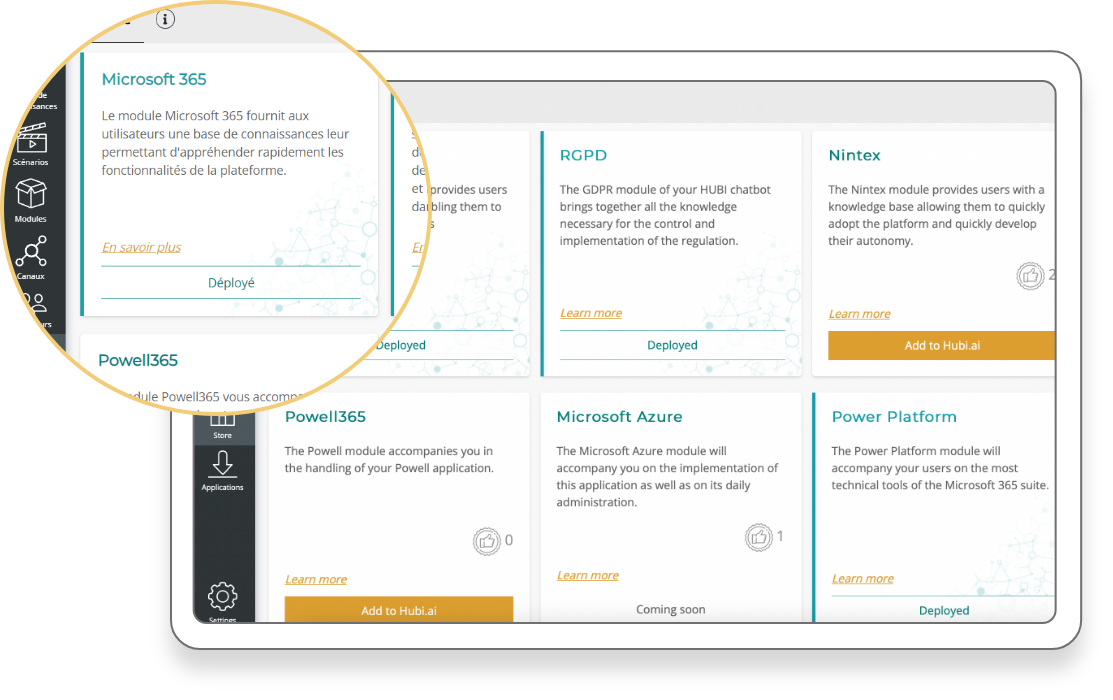 Discover our off-the-shelf modules
OR
GDPR
The GDPR module (General Data Protection Regulation) of your HUBI chatbot gathers all the knowledge necessary to master and implement the regulation in your company.
Nintex Usage
The Nintex module provides users with a knowledge base that allows them to quickly adopt the platform and quickly develop their autonomy.
Power Platform basics
This module composed of several bases (PowerAutomate / PowerApps / PowerBI / PowerAutomates templates) will make it easier for you to access and use the automation technologies related to the Microsoft productivity platform.
Microsoft 365 Adoption
The Microsoft 365 module provides users with a set of knowledge bases (SharePoint, Teams, OneDrive….) to quickly understand the platform's features.
 Azure Basics
The Azure module provides users with a knowledge base to easily find answers to frequently asked questions about Azure fundamentals.
Automation M365
The Microsoft 365 automation module provides a centralized space for creating and managing the platform's containers.
Teams Governance
 The Microsoft Teams governance module helps you make the right decisions in your day-to-day management of Teams. The module also includes a set of provisioning scenarios that allow you to interact with Teams.
Room booking
The room reservation module provides a simple alternative to the problem of booking rooms on Microsoft 365.
Covid-19
In the current context of massive telecommuting, companies are required to provide their employees with all the necessary means to protect them.
Do you want to create custom modules ?